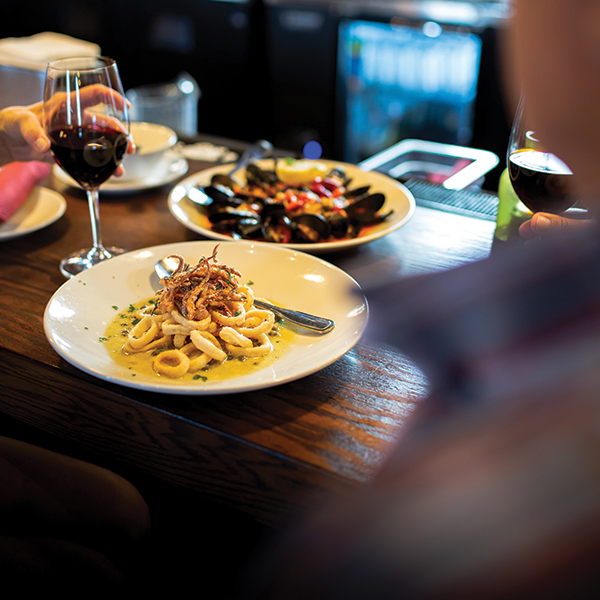 By bscsupport - January 26, 2021
Categories: General
It's no secret that restaurants took a hit in 2020. Patron capacity has been drastically downsized, social distancing rules have been implemented, hours have been reduced and sanitization practices have been increased. Even with the understanding that these protocols are for the public good, the changes are hard to swallow. Luckily, Windsor's dining establishments have gone above and beyond to help ensure that customers can still enjoy a night off from cooking—even if that means taking your meals home. 
Here's how some local restaurants have reinvented themselves to survive and thrive and give us some sense of normalcy during an anything-but-normal year.
BRINGING BACK FAVORITES 
Golf has fulfilled a need for fun, exercise and relaxation throughout 2020, but it's not the only thing keeping us smiling at Pelican Lakes Golf Club. The Grillhouse at Pelican Lakes has managed to maintain fine dining for those who seek an elegant meal in a semi-private country club setting (or via delivery or carry-out). The restaurant has adapted for the times, offering a Holiday dinner carry-out packaged for up to 12 people while partnering with the Sand Bar to promote outdoor live music, trivia night, golf packages and televised sports programming. The Grillhouse also brought back a ladies night, happy hour and their famous fried chicken special—all favorites with Windsor residents!
COOKING IN REAL-TIME
Few things can help you feel grounded like good old-fashioned comfort food and the team at The Border in Downtown Windsor fulfills that mission. The locally owned and family-operated restaurant offers a surprisingly diverse selection of Mexican and American cuisine. From prime rib sandwiches and Mexican lasagna to enchiladas and a glazed ham breakfast, the team works hard to ensure everything is fresh, filling and delicious! This year was all about enticing food photos and videos—giving prospective customers a glimpse of what was cooking on the grill via social media—and promoting rotating daily menu offerings. (You could practically smell the green chilis roasting!)
FUNDRAISING WITH FOOD
The shift to carry-out and curbside pickup required restaurants to streamline their ordering processes and the Wing Shack in Windsor led the way. Their online ordering allowed clients to efficiently order ahead to ensure their meal (and takeout beer!) was ready in the drive-through. Wing Shack held three fundraisers to give back to the community through its food sales. Money was raised for the Colorado Restaurant Association's Angel Relief Fund and the Cameron Peak Fire Fundraiser raised money for the American Red Cross and local volunteer fire departments. And more recently, Wing Shack collected frozen turkeys in exchange for free wings and donated $5 to the local food banks for every turkey dropped off.
ADAPTING ON THE FLY 
How do you continue to offer a little piece of Italy in Northern Colorado when the region's guidelines keep changing? For Pizza Vino, it's all about flexibility! With sit-down dining hanging in a precarious balance on any given day, the Windsor-based establishment relied on a varied of methods to stay in business. There's the online ordering, the Italian market stocked with authentic Italian goods and the mobile wood-fired pizza oven set up at partnering breweries. Plus, the return of brunch, a new menu and picnic table reservations. In addition, there were unique events that provided socially distanced opportunities for the community: a charcuteries class, a five-course wine dinner and an anniversary party with live music, raffle giveaways and prizes.
LISTENING AND RESPONDING 
Falling under the "fast food" category provided some advantages to Subway because the franchise wasn't as reliant on in-person dining as other restaurants. Still, the company took pro-active steps to implement changes that would address the needs and concerns of customers, employees and the community at large. Some of the rotating responses included free delivery, free meals to children who were missing out on lunches when schools closed, curbside and contactless pickups and delivery, and donations of meals to Feeding America. The company also worked to help mitigate the strains and stresses behind placed on employees by providing financial relief and support and conducting wellness checks of restaurant staff at the start of every shift. Team Subway also donated thousands of sandwiches and meals to healthcare workers, first responders and families impacted by the pandemic.
These Windsor dining establishments have worked hard to adapt to every challenge thrown their way in 2020. We encourage you to support them by keeping your money local to show our community support by purchasing gift cards to be used for future use.